Services & Rates
We assist various types of small businesses with numerous services. We specialize in working with those in the construction, restaurant, and home-based business industries.
If you are a recently established business or a start-up we would love the opportunity to meet with you to find out more about your business. Please contact us to learn more about what we can do to help grow your business. We do not charge for phone time, so if you have questions you need answered, even if you do your own accounting work or file your own taxes, please feel free to call! If you would like to receive a letter with the tax updates for the season please submit your name and address to info@tcg-accounting.com.
Disclosures:
*Rates are subject to change
*Rates quoted are for the Twin Ports area
*Higher tax rates may be applicable to highly complex returns.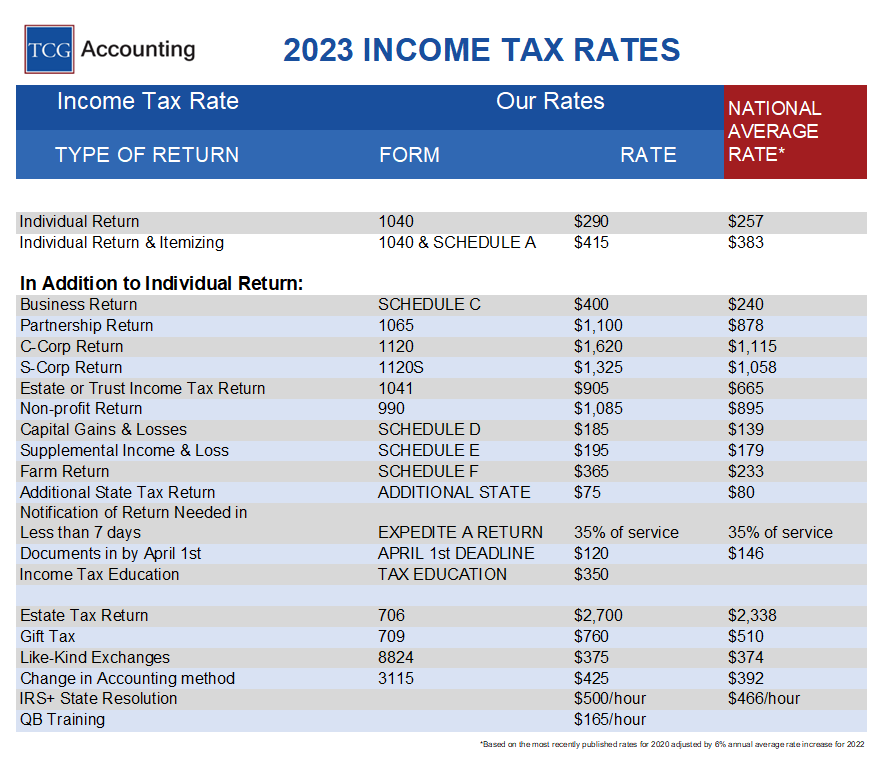 Questions?
Second looks at current or prior three years and initial 1 hour business consultations are always FREE!
BILLING POLICY
Most services are billed and due prior to services being rendered.
Services provided beyond a client's monthly contract scope and those needing sporadic hourly work will be invoiced when services are rendered and are due upon receipt.
Monthly bookkeeping clients must be set up for electronic debits, with payments to TCG occurring on the 1st business day of each month or 15th calendar day.
Clients will be charged a $35 fee if an electronic debit does not process.
Unpaid bills will accrue 2% interest per month.
Clients with outstanding balances must set up a payment plan.
Prepay the next 12 months and receive 10% off!
Addendum as of March 1, 2016:
In the event that an account becomes delinquent for any reason and is turned over for collections, a collections cost of 50% will be added to the past due balance. Any additional collections charges including legal fees are also subject to be added.